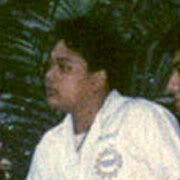 Mark
was the one I'm closest to in our group during our high school years in
Don Bosco
. We only got to know each other on the second year when he tagged along with us during lunch time. He's plump and part Chinese though he doesn't talk nor look like one except for his almond shaped eyes and brownish hair
(everything else about him is very Filipino)
. He can always be counted on to spice things up with his green jokes, bawdy fantasies, and his infectious trademark laughter. It has been that way for years until he suddenly disappeared on us without a word after the wedding of one of our friends six years ago.
Imagine my surprise when he called me early morning last Tuesday to announce that he was in town to fix his mother's papers
(turns out that he went and settled in Silicon Valley with his wife)
. He was staying here up until May 9 and he wanted to see the other guys in our gang too. I had to break it to him that less than half of our group is all that remains. I told him that the others have immigrated to United States and Canada and there only few us remaining in the country. Still he wanted to see us before he goes and since he's in Laguna spending time with his mother
(a good three hours away from where I was)
he couldn't be bothered to see us at the time. I said, ok, just send me a text message when you're ready.
He called me again this morning while I was charging the phone. He said that he was now in Manila but hasn't yet fixed his itinerary but he promised to spend time with us before he leaves. Sure, why not? I'd like to see how he turned out after all these years. Hehehe...
Did he gain more weight on top of his previous bulk after becoming a father to five kids?
He was the first in our group to get married and he's the person I blame for greatly influencing the others to be as green minded as he is. Well after all these years I do hope we'll have enough time to catch up with each other's lives.