This is a view of the Queen Victoria Building along the corner intersection of Druitt, Park, and George Street in downtown Sydney.
I'm a bit sad today since this is the last day of our vacation in Australia. I didn't notice that I finished my surfing the net at past two in the morning. Did you all know that things get wilder in this neighborhood during that time?
Yeah!
People became really boisterous, couples displayed affection to each other without a care in the world, people came in and out of the 24-hour shops, the hawkers of porn joints are still working hard to get more customers, etc. I didn't want to go sleep when I got to the room, my immediate instinct was to take a peek outside the window and watch the world go by.
Dawn came and I was woken up by my brother getting ready for his trip to Brisbane to visit a friend. I didn't get up until 7:45 to freshen up and eat breakfast. We set our itinerary for downtown to finish our shopping. While we didn't get to go to the comic shop these previous days, my sister and me were decided that it's now time to check it out. After eating our breakfast and brushing our teeth, we went down to the subway along with our mother. We brought the handy maps the concierge gave us and searched for the connecting streets where the store is located. We first stopped by a bargain souvenir store, there wasn't that many interesting things to see there so I just waited for my sister and Mom to finish their business. I bought a small souvenir shot glass for Dad as a token of the trip. Then off to
Queen Victoria Building
since my sister wanted to check out the items at the
Body Shop
, and after we which we set our direction toward the comic store. On the way there, we stopped by a discount bookstore and I got a book about the production of Steven Speilberg's movie
Schindler's List
for only $4.95. After that our Mom suggested that we rest up a bit and watch a movie. We chose
"Johnny English"
since Rowan Atkinson was a constant favorite ever since his Mr. Bean days. Big mistake. I'll just go with the experience of watching in the generic Sydney moviehouse. The seats were reclined, you only get to pay one fee and you could sit wherever you like. The ads that were shown before the movie were mostly slide projection types. My guess is that the sponsors get to pay cheaper rates that way.
Fast forward to the end of the movie, we went out and continued our walk to the next street where the comic shop was located.
Comic Kingdom
it was called and it's a comic collector's paradise. There's not much of the new independent titles but more of the big players like Marvel, DC, Image, Dark Horse, etc.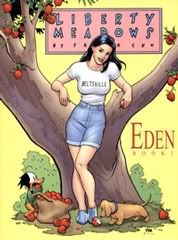 About 60% of the whole thing consisted of old comic books and dinky cartoon merchandise. I got lucky enough to get a
Frank Cho
collection titled "Eden." Then I caught up with my companions eating at Hungry Jacks at the opposite street. Most of the people out here consisted mainly of Asians:
young Japanese, Chinese, and Korean people, and some entire families of Indians
. I think it's cool and I figured that that's what makes the whole place so comfy. Plus of course the charm of the Old World that's very evident in this place.
Next stop was the $10 CD Shop that was always, always full of people browsing and trying to fight for space to comfortably browse. There were a lot of new titles but not that many artists to choose from. And since my sister promised that she would treat me to one CD, I just picked up a four-CD collection of sound effects that i might be able to use in the future.
Not bad.
Then we checked out the novelty store across the street back in QVB. I bought a greeting card and a postcard that advertised the Titanic. It didn't rain as much as it did yesterday but the weather's still cold. We then went down and while my two female companions shopped in the grocery for some snacks and some fruits I checked out the store next to it that had some anime and manga merchandise. I just browsed a bit since there were some things in there that didn't fit the budget. Then we rested a bit in the nearby "foodcourt" area and after about five minutes, me and my sister checked the other stores up the mall. She just checked out a couple of boutiques and I led her upstairs to the bookstore. This bookstore is a really large one that's owned by the Japanese. This sort of reminded me of a flatter and larger Barnes and Nobles. Anyway before we split up I told my sister that she could look for me in the humor or art section of the place. To my suprise it was located on the other side of the building and you can access this place via a short bridge inside the bookstore. There were tons of graphic and fine art books before I finally spied the Graphic Novel section. When I went to take a closer inspection my mind was almost short-circuited from too much information. All you can see from the books were the titles and author's name on the spine and there were A LOT!
I took a bit of a break and checked out their manga section near the Japanese section of the store. Then I went back and tried to read slowly and carefully all the titles that were available. There were Bone, Kevin Smith's comics, Image comics, Daredevil comics, a lot of Spider-man comics, Superman, Batman, etc. I was looking for
Scott Kurtz's work
but it wasn't so I concentrated my browsing through the Vertigo titles before coming across another Frank Cho book called
The Big Book of Love
. I was in a bit of a quandary since it was a limited signed edition and hard bound to boot
($111.95!)
So I just got another of his earlier collections and tried to forget about that book that cannot be mine
(at least for now)
.
We got out of the store, met up with our Mom downstairs and took the train back to the hotel. Since it was still a bit early we decided to walk around the neighborhood and see the sights. I watched the "Simpsons" first and then about an hour after that we went out. I took out a small loan from my Mom and bought myself a DVD of the X-Men 1.5
(but after seeing it on the net I don't think it's as quite unique as I first thought)
. We continued our walk around the block and ate our dinner at a nearby McDonald's. Oh yeah, I promised my Mom I would be back after about an hour so it's about time that I logged off this PC and head back to the hotel. We're leaving around 5:17 in the morning, we'll be packing our bags tonight. I'm quite sad that we have to go, but there will always be a next time. So this is a goodbye to Sydney, Australia. I'll be back one day,
hopefully with some friends of mine.