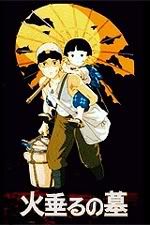 "Will I be capable of the same heartless acts as the others were in the time of war?"
This question among others are the things I pondered on after watching
Grave of the Fireflies
last night. It was my first time to watch this anime and the others who said they cried
(albeit silently)
while watching it were right. I could have cried too if I was watching this alone. There were a lot of memorable scenes like when
Setsuko
broke down in the playground after realizing that she would never see her mother, she cried again when she saw that their mother's kimono was to be sold for them to be able to buy rice, when her
nii-chan
Seita
cried in self-pity and shame after realizing she follow him to the the police station, and most especially the scene when Setsuko died. The words of her brother as he recounted that night holding her close to him stuck to my mind:
"She cuddled closer and closed her eyes."
In a cruel twist of irony, while life in Japan slowly returned to normalcy the morning after, he got ready to cremate her body. Author
Akiyuki Nosaka
, on whose experiences and book the movie was based on, said in an interview:
"My sister's death is an exact match with the novel. It was one week after the end of the war. At the countryside of Fukui prefecture where I was, it was the day the restrictions on lighting were removed. It must have been the 22nd. It was evening, and I was picking up my sister's bones. I was coming home in a daze when I saw the village lit up. There was nothing like my surprise then. My sister died in my side of the world, and light was coming back in the other. The return of light also implies the return of peace, and at that time, I felt from deep within that I'd survived, which was also very scary."
I also reflected on how cruel society can be sometimes on those that cannot contribute something in return for taking care of them. This brings me back to my original question,
will I or can I be guilty of the same?
I have been guilty of these things in the past but Lord please forbid me from being guilty of the same sins in the future. If ever a wrong decision leads to the loss of just one innocent Iife then I don't think I would be able to live with myself.
Film critic
Roger Ebert
wrote glowing reviews for the film
here
. If you want to reminisce the scenes after watching the movie you can download loads of screenshots
here
. Wingsee.com's
tribute to the film
is also worth checking out. "A Teacher's Guide" to the movie can be found
here
which also includes an interview with author Akiyuki Nosaka
(part of which is quoted above)
, director Isao Takahata, some info about Studio Ghibli, and links to other GotF sites including Central Park Media's.